Process
We utilize a 6-step process to understand where you are now and what your goals are for the future. Then we develop, customize and implement a plan to help you get there.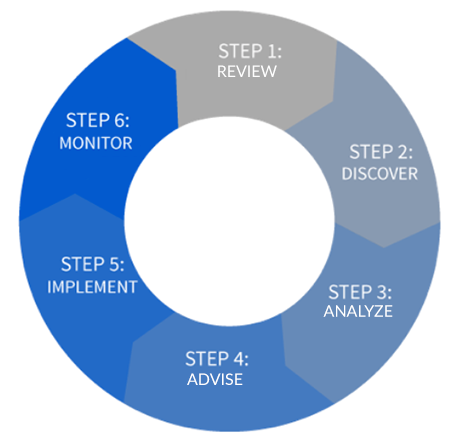 Review
We take some time to get to know you – what's important to you, what your hopes and dreams are. We'll share our process with you and how we'll work together.
Discover
To best help our you, we have to have the most accurate information we can about where you are today with your finances. It can be a bit of work to gather all of this information but having accurate information to start with means more accurate planning results.
Analyze
This is where we go to work for you. We'll review all of the information we've gathered and determine where you are in your planning so we can share that information with you.
Advise
At this point, we'll share the results of our analysis with you and recommend the changes that will need to be made (if any) to help you achieve your goals.
Implement
With a clear plan in hand, we'll help you take action to implement the changes needed.
Monitor
Your plan is not an event, it's a process. We'll need to continue to review how all facets of your plan are progressing and make adjustments as needed.
Neither Jon Stamberger nor his agents offer legal, tax or accounting advice. Please consult your own tax, legal or accounting professional before making any decisions.